fields4ever extends its reach to four continents
by Juan Vicente Beneitez Lajas on Jul 10, 2020 6:36:32 AM
Research organizations, scientists, and farmers from Europe, Asia, Africa, North and South America have already joined this global initiative for the conservation and monitoring of soil health, promoted by Biome Makers.
fields4ever is a global initiative for the conservation and monitoring of soil health. fields4ever is open for scientists and research institutions, farmers, and agronomists who are all invited to conduct projects related to the various categories of soil health. Since the launching of the initiative and its open calls, organizations from Europe, Asia, Africa North, and South America have already joined in.
Each participating project is granted with a number of advanced monitoring tools provided by Biome Makers, which is, for the first time, opening its technology to the global research community. The objective is to support around 200 soil health action projects contributing to the scientific, technological, or economical breakthrough of agriculture in relation to soil bioactivity and functionality.
"We are very satisfied with the quality and scope of projects we are receiving, which covers very diverse working hypotheses, in all types of crops. Furthermore, we believe that it is particularly interesting that they come from all continents, as this will allow fields4ever to provide knowledge and a global vision of the health of our cultivated soils," explains Adrián Ferrero, CEO, and Co-Founder of Biome makers.
Agroescope: Impact of the land use and soil pesticide residues on the soil and root microbiome
Agroescope is the Swiss Centre of Excellence for Agricultural Research and is affiliated with the Federal Office for Agriculture (FOAG). Agroscope researches along the entire value chain of agriculture and the food sector. Its goals are a competitive and multifunctional agricultural sector, high-quality food for a healthy diet, and a sustainable environment. It also plays a key role as policy advisor for government agencies.
Agroscope is conducting two research projects within fields4ever. The goal is assessing which factors (e.g. land use, soil characteristics, fertilization, pesticide residues) influence microbial community traits (richness, microbial network characteristics) in two kinds of crops: vineyards and cereal grain farming. Agroscope will run tests in both organic and conventional management in three kinds of crops: vineyards, cereal grains, and wheat. Both projects will be lead by Marcel Van der Heijden, Ph.D., head of the Plant-Soil Interactions Group at the Swiss Federal Research Institute Agroscope (Zurich, Switzerland), and professor for Agro-ecology and Plant-Microbiome Interactions at the University of Zurich (Switzerland).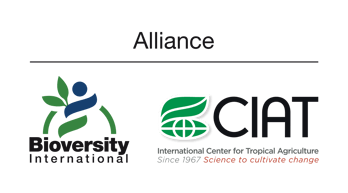 The Alliance of Bioversity International and International Center for Tropical Agriculture (CIAT) previously known as CIAT:
Selected treatments of long-term trials in Kenya
The Alliance Bioversity-CIAT delivers research-based solutions that harness agricultural biodiversity and sustainably transform food systems to improve people's lives. Alliance solutions address the global crises of malnutrition, climate change, biodiversity loss, and environmental degradation. With novel partnerships, the Alliance generates evidence and mainstream innovations to transform food systems and landscapes so that they sustain the planet, drive prosperity, and nourish people in more than 50 tropical and developing countries.
Alliance Bioversity-CIAT Africa Hub is conducting two trials with the objective to show the impact of various soil conservation measures on soil fertility and crop productivity to improve the quality and yield of crops of importance in Kenya. The trials will analyze different tillage systems (reduced tillage and conventional tillage); different cropping rotations (such as continuous soybean-maize rotation, tephrosia-maize rotation, and soybean-maize intercropping; as well as different manure applications and residue levels.
Dr. Job Kihara Maguta will be at the forefront of Alliance Bioversity-CIAT Soil and Water Management research projects with fields4ever. He has a long career working for Alliance Bioversity-CIAT in Africa and is leading the recovery of soil health projects. He has spent more than 15 years working and leading various projects related to soil biology and conservation agriculture,
"Having the active participation of two reference institutions such as Alliance Bioversity-CIAT or Agroscope is a great boost for fields4ever, and endorses its goal of achieving a recovery assessment of soil health of quality and scientific rigor, as the first step towards global action for more balanced and sustainable agriculture and to improve the quality of food produced around the world", says Alberto Acedo, CSO, and Co-Founder of Biome Makers.
Multiple categories of research and crops
Among the organizations that have committed with fields4ever there are knowledge centers like Universidad Politécnica de Cartagena which is conducting a project to measure the effect of intercropping in horticulture to increase soil productivity and ecosystem services, particularly in broccoli and fava beans. The project will take place in Agri-food Experimental Station Tomás Ferro, in Spain, and its aim is demonstrating that those techniques may enhance general productivity, soil quality, and fertility, by the stimulation of beneficial microorganisms. Other organizations include the Italian Association for Organic Agriculture (AIAB), that will analyze soil in organic Italy farmlands or Farmers like Hild Family Farms that will analyze the impact of pesticides and synthetic fertilizers in the soil microbiome of a corn and soybean field.
Calls for researchers, farmers, and agronomists will remain open until August 31st 2020!
Biome Makers has contributed to fields4ever with 10,000 of these monitoring tools, valued at €4 million that are granted via these open calls to researchers, besides additional initiatives involving agricultural key players worldwide. Interested organizations would propose projects falling in categories such as carbon farming, soil-plant-microbial interactions, types of soil and suitable crops, recovery, and maintenance of soil health or unfertile soils.
Fields4ever open call for researchers, farmers and agronomists grants free of charge services from the fields4ever partners. The research beneficiaries will access BeCrop tests, an advanced soil microbiome testing technology developed by Biome Makers. Researchers will also receive digital data coming from soil samples including full microbial profiles (bacterial and fungal species) and functional soil data in the form of different agronomic indexes to support their research and to help achieve their goals.
Applications can be submitted until August 31s t 2020. A group of experts with scientific, industrial and agronomic backgrounds will evaluate the proposals in a continuous evaluation process during the application period to ensure the quality of the research carried out under this Open Call.