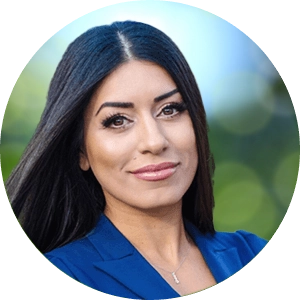 Sarah Basiri
Global Head of Marketing and Communication
Sarah Basiri is a proven, pragmatic, and strategic professional with 15+ years of marketing experience, which includes multinational organizations, an award-winning marketing agency, and clients across all industry verticals. Across a diverse set of experiences and objectives, Sarah regularly displays an entrepreneurial spirit, effective leadership skills, and infectious enthusiasm, which has allowed her to build high-performing teams, accelerate sales for complex and technical B2B companies, and otherwise drive growth and operational excellence.

Sarah is currently the Global Head of Marketing, setting the marketing strategy for Biome Makers and managing a global team of marketing and communication professionals. Prior to joining Biome Makers, Sarah worked at Heliospectra, a Swedish biotech company, as the Vice President of Marketing, setting and implementing the global marketing strategy as well as investor relations initiatives to increase brand awareness and drive revenue.

Sarah gained her bachelor's degree from York University and is passionate about the future of agriculture and playing a role in soil health recovery.
During Sarah's spare time, she enjoys traveling to experience different cultures and foods.
"I have always felt passionate about working for an organization that positively impacts the world and future generations. Biome Makers is that company and I am honored to be a part of it," states Sarah Basiri.