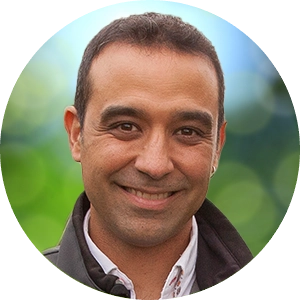 Adrián Ferrero
Co-Founder and Chief Executive Officer
Adrián Ferrero is the Co-Founder & CEO of Biome Makers. With recognition from the Spanish Government, Illumina Accelerator, and MIT Technology Review —Adrián is a self-described entrepreneur on a mission to improve the world. He holds a Master of Science in Economics from the University of Salamanca and a Master of Environmental Management from the Turku School of Economics and Business Administration.
Growing up in an agricultural region of Spain inspired Adrián to co-found, together with Alberto Acedo, Biome Makers Inc., and create its patented BeCrop® technology. From there, Biome Makers has received many awards worldwide (AgSum in Japan, agripreneur 2019 in Greece, WINnovation in US, or Best innovative startup by AgFunder) and attracted over $24M from investors. Prior to Biome Makers, Adrián has founded three start-ups and worked as an innovation consultant for more than nine years.
Adrián enjoys hiking, fishing, being in nature, and believes in making the world better one step at a time.