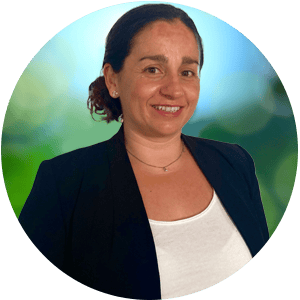 Rebeca Medina Amezcua
Global Head of Laboratory
Rebeca Medina Amezcua is from Gavà, a small town near Barcelona, Spain. She has been keen on science for as long as she can remember. As a child, her favorite game was to mix leaves and flowers from her family garden to create new products.
Rebecca graduated in Biology from the University of Barcelona, where she finished two Master's Degrees. Her career path is dynamic and diverse, with extensive experience in sequencing. Initially, she was trained using Sanger sequencing to get the information of 1 gene at a time. Since she has trained in NGS Illumina-based technology in the National Center for Genome Analysis and lately in Nanopore technology at the Center for Genomic Regulation. Rebeca's research has been published in more than 10 scientific papers.
She likes to devote her free time to her family, friends, and yoga.
"I would define myself as curious and hard-working. Those two skills have accompanied me through my path in research. All those years, I gathered a great deal of knowledge, and I hope to put it into service in Biome Makers and leverage AgTech to increase sustainability," Rebeca comments.